I began the February 2017 magazine wishing everyone a happy New Year and welcoming Jo and Jonathan to Outwood and Wrenthorpe.  I begin this one preparing to say goodbye.
We arrived as a young fresh faced family in 1993, little knowing that we would still be here 24 very special years later.  Seen here with Viv's godmother at my induction.  In this time I have been involved in marrying 338 couples, baptising 677 children and adults and commending 1188 souls to God's love at funerals.  It has been such a privilege to be involved with so many families at such significant times. I also have been doing school assemblies (or collective worship as it is now known) at St Peter's school most weeks over this time. With many other contacts it is remarkable how many people I have got to know, though do excuse me if I forget a name.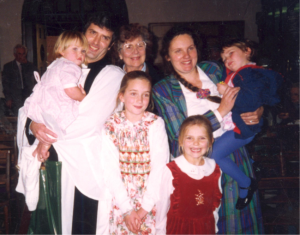 One of the things I have enjoyed the most is our 'Just Looking' groups, when we have got together to discuss our faith and seen many people discover the reality of a living faith in Christ.
We have seen the life of the church grow from mainly Sunday worship, to a full programme throughout the week serving the community in all sorts of ways.  I am so grateful for the team that has made this possible.
One of the most difficult things was coming to the decision that the old church was no longer the place to worship, and I know this has been painful for many.  I do believe that we have been following God's will in this and indeed the present building is what has made our full life possible.  The life of the church will go on in the benefice, so please look out for things to join in with.  We are planning to use the same material for our Lent groups in each parish, to encourage some mixing and enable people to get to know each other across the villages.
God Bless you all.
Rev Bill Henderson